MusiLib
MUSILIB
Music for Children's Multicultural Learning
Twenty-first century children live in an increasingly interconnected, diverse and rapidly changing world. They need not only to develop their social skills to interact and engage with people from diverse cultures in a respectful way but also appreciate and benefit from cultural differences. Although there is no doubt about the importance and necessity of cultural awareness and cultural understanding, how these can be taught at schools and what might be the tangible outcomes for children and the wider community remains a challenge.
MusiLib aims to address this challenge in several ways. It offers an expanded multilingual and multicultural library for children participating in the MultiLib project (multilibproject.eu) which has successfully developed a vibrant multicultural e-library with 26 beautifully illustrated e-books in Finnish, Swedish, Czech, French, Turkish, Greek, English and 6 languages spoken by migrants in each partner country.
Furthermore, as a follow-up MusiLib will provide new ideas, inspirations, methodology and tools by using a very effective medium: music, which is in indispensable expression of culture. Each story in the MultiLib e-library will be accompanied with a soundtrack produced by professional musicians using a traditional instrument of the culture. In addition, a Children's Multicultural Music Instruments Library will be created. This e-library will contain photos of the instruments, sound files played with each instrument, an audio file with the name of the instrument in its original language and a story of each instrument written by a children's book author.  
All of MUSILIB's outputs will be available in a digital format and partners will be responsible in making sure any technical solutions are children user-friendly so as to allow participants a sense of ownership of the project.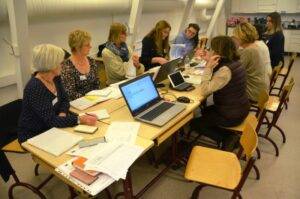 Although MUSILIB is designed to appeal to everyone who has to deal with or who is interested in cultural awareness and cultural understanding, it has two main target groups. Through MusiLib, school teachers will be equipped with specific knowledge and educational tools to tackle their increasingly multi-ethnic classes. However, the ultimate target group of the MusiLib project is primary school pupils.
These pupils will benefit from e-library which will help them to see things from different perspectives. Children will also take an active role in MusiLib by producing stories for the e-library. This will in part be achieved through the use of  a manual which will include information on how to create and tell a story, how to add music to a story and how to create a dance for a story, with teachers supporting students in the creative process.  Through this bottom-up approach, children will play an active part in the MusiLib project, which will, in turn, foster a sense of involvement in the project.
The two-year MusiLib project will be delivered by a vibrant partnership of 7 organizations from Finland, Sweden, Turkey, Belgium, Czech Republic, Greece and the UK.