ARTinLAN
A Global Virtual Village for Languages and Art
Description of the Project
In September 2018, the new European project ARTinLAN was launched. The project aims to create a number of innovative educational tools linking language and art education. These tools will then serve to promote the acquisition of foreign languages ​​for school children.
Target Group
The target group includes pupils aged 6–11 years with an emphasis on pupils who find language learning difficult or need additional support in their learning.
Outcomes
A set of activities that use different types of art (such as dance, music, theater, visual arts or creative writing) to develop pupils' language skills. The ARTinLAN Activity Set is available for download at the bottom of this page.
A methodological guide for teachers about how to use art in foreign language teaching. The guide will include both case studies and good practice examples.
ARTinLAN: A Global Virtual Village which will act as a virtual storage for pupils' creative outputs. It will be a globally available online platform where teachers will be able to store and publish artistic artifacts and experiences that have arisen in their language teaching using ARTinLAN methods.
International training for teachers (6th–8th November 2019, Brno, Czech Republic).
ARTinLan will be available in English, Czech, Polish, Danish, Turkish, and Swedish. During the project implementation, the project team will organise workshops for teachers where they will explain how to adequately use these innovative tools in the classes.
Project Partners
Municipality of Vejle (Denmark), Çukurova University (Turkey), Jazyková škola PELICAN (Czech Republic), The Mosaic Art Sound Limited (United Kingdom), Viksjöforsbaletten (Sweden), Społeczna Akademia Nauk (Poland)
Newsletter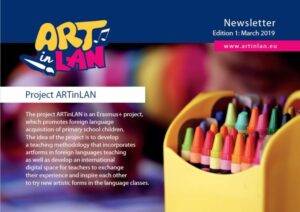 Website & Facebook
Project website: www.artinlan.eu
Project Facebook: https://www.facebook.com/artinlan/
Photogallery
Want to know more?
If you would like to know more about the ARTinLAN project, do not hesitate to contact us. We can be reached at info@skolapelican.com or at +420 774 742 296. Alternatively, you can visit us at Lidická 9, Brno. In case you want to arrange a meeting with us, we would be happy to come to you and personally introduce the project.

Download the ARTinLAN Activity Set